Vivek Pandey a RTI activist, Freelance Journalist, MBBS and Youtuber
Vivek Pandey is an Indian RTI Activist, freelance journalist, MBBS, Whistelblower and youtuber. He has filed more then 500 RTIs to different government departments. His work came into light when he exposed NEET JEE students leak scam.
Vivek Pandey also working as verified freelance journalist known for writing on social and political and educational issues. Also well known YouTuber making video's on educational and awareness topics to guide students and citizens of India
Vivek Pandey journey of activism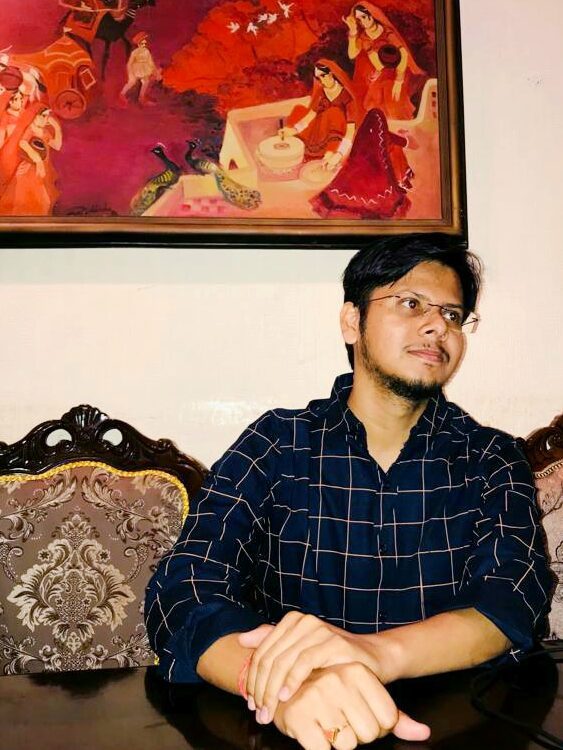 Vivek pandey begins his activism journey in year 2016, when he was leading a small group students and done 1st protest in front of CBSE office Delhi. they are fighting against medical entrance exam NEET paper leak issue. He found so many mistakes and irregularities in government way of working and with aim to bring transparency amongst people of India started filing RTIs to different government department.
EXPOSED NEET JEE STUDENT DATA LEAK SCAM
In year 2018 first time he exposed NEET JEE students data leak scam. there are various websites who are selling students database, Vivek found most of them and given all details to media house's. There are various media news and articles published after he exposed this scam. After his revelation in few days all websites are taken down by government of India. But again in year 2019 he found that agents again started selling students data base online, so this year he had given complaint letter to CBI Bhopal and in year 2020 to CBI Delhi. on his complaint investigation is still going on.
RTI ACTIVISIM
In year 2016 he started his work as RTI activist. His main aim is to bring transparency in work of government. He has filed his 1st RTI to CBSE. Then there is series of RTIs to almost every government departments of India. In 2020 edex of Indian express has taken a small interview on his RTI work.
In year 2020 he has reveals big details of NEET examination application form fees, due to his RTI work people get to know NTA has collected 200 crores rupees in the form of application form fees. NEET examining is taken by government of India and this much amount of examination fees collection make it questionable. many more news are published by edex Indian express based on information given by him.
In November 2020 his filed RTI reveals Indian central government got information on coronavirus on 11 January 2021 but still no action on covid 19 condition was taken by government to prevent corona virus in India.
Government replies to RTI activist Vivek Pandey , one of his RTI reveals' that Delhi state government has spent 659.02 crores rupees over advertisement. Delhi is capital of India and this amount of wastage of money over advertisement is criticized by all other political parties in India. Currently Delhi government is ruled by aam admi party and Arvind kejriwal is chief minister of Delhi state.
The Delhi Jal Board has spent only 0.2 per cent of the fund allotted to it under the Mukhyamantri Septic Tank Safai Yojna of the Delhi government. According to the Right to Information reply dated February 24, received by activist Vivek Pandey, the AAP-led Delhi govt had allotted Rs 35 crore under the septic tank cleaning scheme to the DJB in two years. by use of Right to information act vivek pandey reveals
One of his RTI also reveals amount of fund Delhi government gets to fight COVID-19 pandemic.
Again in month of April his RTI revels another big information of wastage of corona virus vaccine in India. Over 44 lakh COVID vaccine doses wasted till April 11, 2021. this news spread like a fire every where. information based on his revelation is also covered by international media houses. Honorable Delhi high court has also given statement on this RTI findings and strongly criticized government for wastage of corona virus vaccine.
In March 2021 India has faced 2nd wave of corona virus and Delhi state was one the top most state which is reporting maximum number of corona virus cases. this time his very important RTI reveal's information that Delhi government didn't buy any ventilator. this RTI is mentioned in Delhi high court " Delhi High Court says there is a complete failure and it is very clear that systems are not in place HC remarks came when an advocate tells the bench that according to an RTI reply, Delhi Govt did not procure ventilators purchased in the last six months to fight against corona virus after 1st wave was finished.
Youtube career
In the year 2018, he started a new Youtube channel "Vivek Pandey". In a very short period of time, his videos got viral and he had more than 31k subscribers on his channel. He is making awareness and educational videos for students and society.
Height
5 Foot 7 Inch
Vivek pandey / विवेक पाण्डेय
Born:21th April 1994 (age 27)
Residence: Rewa, Madhya Pradesh
Occupation: RTI activist, Freelance journalist, MBBS and YouTuber
Years active 2016 – present
Known As: RTI activist, Freelance journalist, and YouTuber
Religion: India