Best upcoming technologies for Healthcare mobile app
Healthcare mobile apps are increasingly penetrating the healthcare sector. Here is the best upcoming healthcare app development technology you should know in 2022.
There is no sector left where technology is not involved, even in small parts, but technology has been involved in each. It has also made its place in healthcare mobile app development.
Healthcare is an essential thing to take care of, and for it, many trends are updating in the field of healthcare which will provide you a smooth experience for patients who will use healthcare mobile apps.
The developer planning for healthcare mobile app development will need to stay updated according to the latest trends and follow them to attract more users to their application.
Trends in healthcare sector
The first and foremost reason behind the hype in the consumption and demand of healthcare mobile app development is the pandemic as known, one is allowed to step out of the house, and another reason is people don't have time to take proper care of their health.
Artificial Intelligence in healthcare
AI is capable of handling huge amounts of data in very few seconds.
Artificial Intelligence technology can extract data from various sources, process it in no time, and provide changeable observations.
Implementing such technology in healthcare mobile app development will make it easier and smooth. It will also help by providing support services to solve patient queries.
Blockchain in healthcare
Blockchain in healthcare mobile app development is assumed to be the biggest growth.
The technology trend will enhance the security of the applications by implementing fast and secure online transactions.
It can also promote the online payment facility for medical bills smoothly without waiting in a queue for a long time.
With the help of online payment will make the whole payment process fast and smooth.
The blockchain technology trend will also provide security of the patient's personal data and information.
Big data in healthcare
It is inevitable that many developers are still using big data in healthcare mobile app development, and its usage in app development will increase in the upcoming years.
Blockchain technology can help manage health records, enhance healthcare service quality, and offer protective care and many other segments.
Cloud computing in healthcare
The arrival of cloud computing has entered every industry, not even healthcare. Currently, developers expect cloud computing to become a prominent part of the healthcare industry by connecting it with on-demand services.
Users will initiate using a healthcare mobile app implemented with cloud computing. They will store their data regarding their health directly on the cloud and easily access it anywhere.
Telemedicine
With an increasing range of users is moving towards using online platforms for using healthcare services, in such cases, telemedicine is expected to become the new approach of getting treatment as well as consultancy.
The patients and doctors will get a lot of advantages from such a healthcare mobile app development.
It can easily remove all the geographical, time, and other hurdles to connect easily with the healthcare experts and consult them at any time.
Wearable integration
Healthcare mobile app development by implementing wearable integration technology can help prevent different health-related issues and maintain their health.
It can help examine and track activities such as running, cycling, exercising, and much more. Users expect to see a huge change in wearables technology in various healthcare applications by the coming year.
Hype in AR and VR
Both AR and VR technology are well known for providing real-time experience to users. Similarly, in the healthcare mobile app development industry, they will help to educate and train the interns to perform various operations on the human body.
It will also help the patients suffering from stroke regain their motor control.
About Author: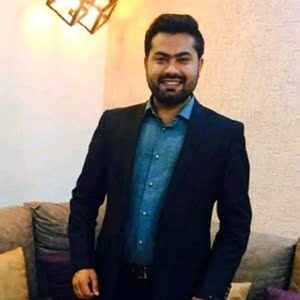 Rahim Ladhani, CEO and Managing Director at Nevina Infotech, Enterprise Web App & Mobile Application Development Company, helps global businesses grow by the internet of things development.