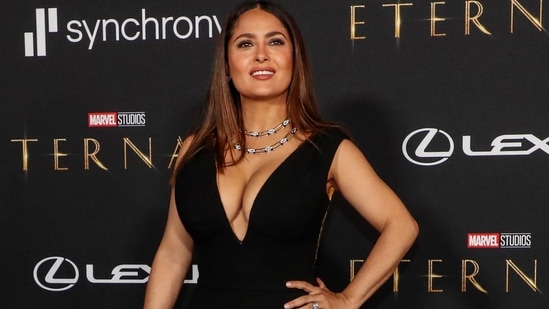 Here's why Eternals Star Salma Hayek fears to visit India
Salma Hayek will soon be seen in the Marvel Studios film Eternal. The actress revealed that she intends to come to India soon with her mother and daughter.
Eternal star Salma Hayek has expressed her desire to visit India. The actor recently said in an interview that she dreams of touring the country with her mother and daughter. However, she admitted that she is getting 'nervous' about her upcoming trip.
Salma Hayek is debuting in the Marvel Cinematic Universe with Eternal. She plays Ajak in the film directed by Oscar-winning filmmaker Chloe Zhao.
In an interview with India Today, Salma said, "I think I will be visiting India very soon. I have a dream to travel to India with my mother and daughter. But I am very nervous. because there are so many places to visit and every time i ask someone if there are special places for women out there i get confused about where to start my journey. But whenever I get a break, maybe I'll do it."
While fans are waiting for Salma to come to India, Marvel has included Bollywood in the Eternal. The film features Kumail Nanjiani in the role of a Bollywood star. The film also has a Bollywood dance sequence, with a Hindi song Nach Mera Hero. Marvel shared an excerpt from the scene on Twitter.
Speaking with Hindustan Times earlier this year, Marvel Studios president Kevin Feige said, "South Asia, in particular, is a part of the conversation, and a part of the things we've already announced And have already shot. I'm excited for the world to see it. But I'm getting strangely familiar with the Indian film choreography based on the many different projects that we are working on."
Eternals, the 26th film in the MCU, introduces a group of actors into the superhero universe. These include Gemma Chan, Richard Madden, Kumail Nanjiani, Lia McHugh, Brian Tyree Henry, Lauren Ridloff, Barry Keoghan, Don Lee, Harish Patel, Kit Harington, Salma and Angelina Jolie. The film is releasing in India on 5th November.