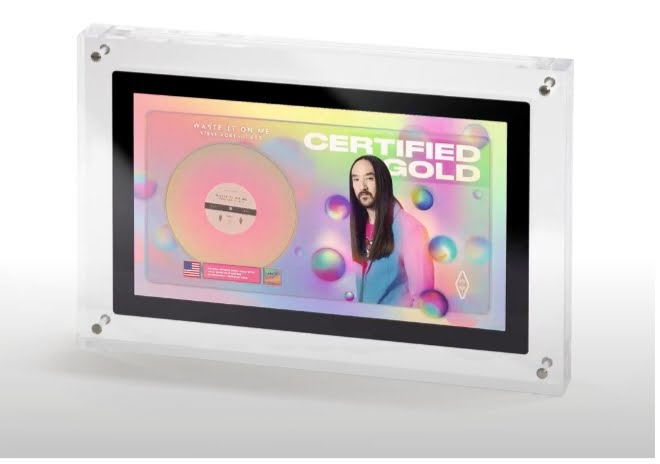 Steve Aoki Makes History As First Artist to Create Animated Plaque for RIAA-Certified Gold Single "Waste It On Me"
September 19, 2022 – 2x GRAMMY nominated music producer, artist, fashion designer, entrepreneur and NFT visionary Steve Aoki (@steveaoki) has broken significant ground in the Web3 space with his NFT community A0K1VERSE (@a0k1verse), his genesis NFT collection "Dream Catcher," and his Dominion X series in collaboration with Stoopid Buddy Stoodios. Now the multi-talented artist has taken things to the next level by introducing the world's first animated plaque for his RIAA-certified Gold single featuring BTS (@bts_bighitofficial), "Waste It On Me." Aoki collaborated with NFT video printer Infinite Objects (@infiniteobjects) to create the revolutionary project, which will be gifted to the A0K1VERSE NFT Passport holders beginning on September 20, 2022 (limited to Ultraviolet, Phantom and Prizm level).
"Waste It On Me" was originally released in 2018 and certified RIAA gold as of March 17, 2022, adding a new honor to Aoki's long list of accomplishments. The artist has made a seamless and highly successful foray into the Web3 space and, as a result, has decided to spread the love and excitement of this musical feat with the NFT world. Instead of going with the tried-and-true framed vinyl record plaque, Aoki partnered with Infinite Objects in order to create a limited edition video print of the gold plaque, signed by the artist himself. The highly coveted plaque will be distributed to everyone involved in the creation of the single itself, as well as every A0K1VERSE member with an Ultraviolet or higher level Passport.
Aoki has always had a genre-defining way about him, from his endeavors in music and fashion to television and animation. His presence in the NFT space is no different; and as other traditional artists and creators attempt to make their way into the space and figure out the best way to reap long-lasting success, this latest bold step forward will set a new standard for how music operates in Web3.
ABOUT Steve Aoki
With a 77 million average monthly reach across all his platforms, 2x GRAMMY nominated music producer, artist, fashion designer, entrepreneur and NFT visionary Steve Aoki is one of the most successful cross-genre artists in the world. His latest forays into the NFT landscape have kept true to his legacy as a futuristic, innovative, against-the-grain mind. From his genesis NFT collection "Dream Catcher" he first launched in 2021 alongside visual artist Antoni Tudisco and "Dominion X" (the first episodic series to launch on the blockchain) to his throwback collaboration with 2011's Nyan Cat and the creation of his NFT membership community A0K1VERSE, Aoki is steadily gaining traction as one of the most reliable yet boundary-breaking voices in the metaverse. Aoki's work has always had this transcendental ability to establish community, and that palpable energy has carried into the web3 space to welcome his fans to new and unforgettable virtual and IRL experiences.
Web: steveaoki.com/ a0k1verse.xyz/
IG: @steveaoki / @a0k1verse
Tw: @steveaoki / @a0k1verse
ABOUT Infinite Objects
NFT video platform Infinite Objects began with a radical vision: to capture moving images in the same way special, still moments have been captured via posters and prints for decades. Their product, "Video Print," allows users to collect a moving image: up to 24 hours of video playing in a perpetual loop in a beautiful 5″ or 7" display and framed in modern acrylic or sustainably-sourced bamboo. The platform allows users to find novel work or create their own, defining a new way to buy, own, sell, and experience moving images.
Web: infiniteobjects.com/
IG: @infiniteobjects
Tw: @infiniteobjects