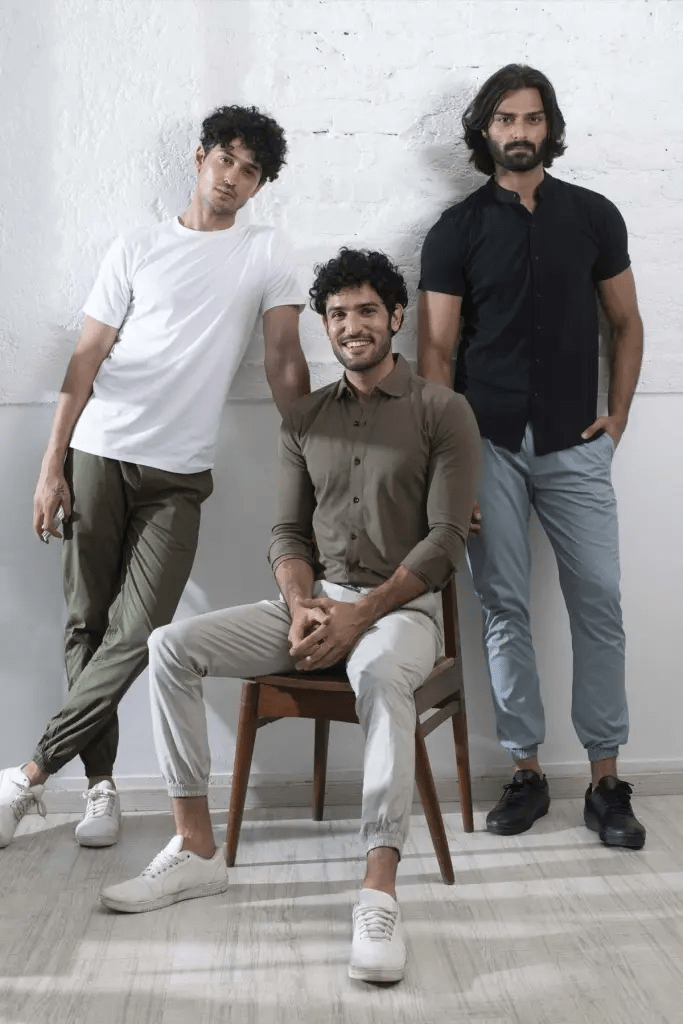 How Beyours is driving a sense of minimal dressing in Indian youth
Usually people wait for some other person to bring change in the society, no one takes responsibility for it himself.. They prefer to wait for the rest of their lives instead of making changes themselves to make things better.. However, this wasn't the case with two very special people, who decided to take things into their own hands. Nilesh and Ashish, who came from a small town, wanted to do something different and meaningful for society. They found a gap in society and came together to bridge the gap. Their hunger to be the change drove them into starting their brand. Beyours.

Beyours is a men's apparel brand that caters to environmentally cautious people willing to part ways with fast fashion and trends. Instigated with the idea of minimal and timeless essentials, Beyours has constantly been working, catering to people who want to stand out from the crowd. With time, people have started thinking cautiously about the effects of fast fashion on the environment.

Fast fashion is a collective term that explains the life cycle of a garment, made by compromising its quality, and how it eventually moves from the runway to store to keep up with the trends. Brands lower the quality of the products to reach a larger audience in less time and at a lower price.

Back in the day, when people were not aware of fast fashion's hazardous effects, they used to follow trends blindly. People used to buy everything that hit the rack after it was off a fashion show and the runway. Call it an impulsive buyer or a very clever marketing technique by the brands; people were forced to buy certain pieces that they did not know how to style again once the rage was over. At a time when no one was interested in talking about the dangerous effects of fast fashion, Byers came forward and took the initiative and put the new fashion in front of the people.

The founders Ashish and Nilesh decided to build a brand that focused purely on the quality and longevity of the pieces, keeping in mind the concept of minimal, timeless, and sustainable essentials. Since the dawn of time, Beyours has focused on developing minimal pieces that have the essence of timeless clothing. Beyours chose high-density premium cotton as the core fabric to maintain high-quality and comfortable clothing. They have a spot on USP of selling season-friendly, occasion-friendly sustainable essentials that won't go out of trend. The brand targets the Indian youth who want to break free from the shackles of fast fashion and dive into the art of minimal clothing.
You might have seen the term minimal dressing spread like rage all over the internet. What is minimal dressing? It is a pretty simple concept similar to "less is more." When you cut down on unnecessary items that you don't need or won't wear in the future, you are left with pieces you have worn in the past, and you will wear in the future, and those pieces provide you comfort and joy.
Keeping in mind the cautious people who like to dress minimally, Beyours prioritizes their customers and provides them with clothes that can be styled with almost everything, every color, and every season. They refrain from using patterns, designs, and colors that restrict the flexibility of styling their pieces. They indulge in a mindfully chosen neutral color palette that suits almost every Indian skin tone. They have added utilities in their products that help the consumer dress minimally yet comfortably.
At Beyours, you will find minimal dressing essentials that are enough to help you feel stylish yet close to the concept of minimalism. To date, they have launched 30 plus categories:-
T-shirts- Polo, Tri-blend & Pique
Shirts- Classic & Knit shirt
Trousers and Pants – Air Trousers, Everyday pants, 24-Hour Trousers.
Joggers, Sweatpants and Shorts- Air jogger, Sweatpants 2.0, Easy Sweatpants)
Hoodies and sweatshirts
How many of you can proudly say that you have a very minimal wardrobe? That you have worn all the pieces that are lying in your wardrobe? It's not a question. It's a reminder to people who shop unnecessarily under the influence of celebrities etc. The minimal dressing isn't as hard as people claim it is. You need a cautious brand working towards the same. Beyours is one of them. Bravo Beyours!!
You can connect with the founders of Beyours Mr. Nilesh Karnani and Ashish Baheti