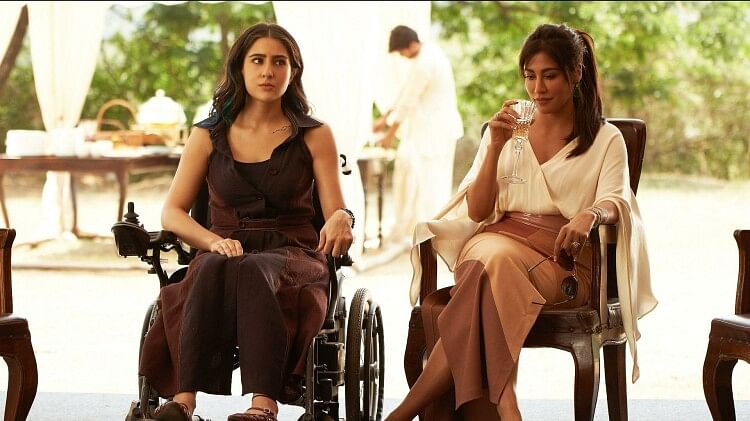 Gaslight Review: Chitrangada Singh Shines in an Otherwise Lackluster Film
Movie Review: Gaslight
Artists: Sara Ali Khan, Chitrangada Singh, Vikrant Massey, Akshay Oberoi, Shishir Sharma, Rahul Dev
Writer: Neha Sharma Pavan Kirpalani
Director: Pavan Kirpalani
Producer: Ramesh Taurani, Akshai Puri
Release Date: 31 March 2023
Rating: 2/5
The scene opens on a small boat floating peacefully in the middle of a river. The camera focuses on a fisherman standing on the boat, patiently waiting for his catch. Suddenly, a rock hits the water and causes a small ripple, catching the camera's attention. As the camera pans to the right, we see a hand with painted nails holding the rock. The screen then fades to the title of the movie, "Gaslight."
The film's title has a different meaning in English than its literal translation. In the days when electricity was scarce in rural areas, "gaslight" was rented for social and family events. The gaslight was made up of a clay device shaped like a jet, with a potli made of filter cloth tied to it on all four sides. Kerosene was burned inside the device, producing a bright, white light.
In English, "gaslighting" refers to the manipulation of a person's psychological state, causing them to question their sanity and intelligence. The movie "Gaslight" explores this concept in depth, weaving a compelling story that examines the fine line between reality and illusion.
In a castle-like structure near Morbi in Gujarat, the story of the movie "Gaslight" unfolds, 15 years after the kingdom's alleged princess returns. Her lower back is injured due to an accident, and she is welcomed by Rukmini on a wheelchair. People call Rukmini the small queen. In an old video, the queen watches with a jealous gaze as Rukmini kisses the alleged princess, whom she also calls by name. The princess has come here to receive a letter from her donor, but the donor is not present. People say he has gone out. In the darkness of the night, the princess sees her donor. The doctor says it's her delusion. She wants to know about the small queen, but the kingdom's guard keeps himself far away from their personal lives.
The movie "Gaslight" is a gripping psychological thriller that quickly lays out its plot within the first 30 minutes. With only the last 15 minutes to go, the audience is left waiting in anticipation for the big reveal. Ragul Dharuman's cinematography perfectly captures the dark and ominous mood of the film, making it a challenge to watch on a smart TV during the day. Editor Chandan Arora has expertly paced the film, allowing it to unfold naturally while skillfully weaving the story's mystery through its visuals. Anirban Sengupta deserves recognition for his sound design work, using silence and music to great effect. However, despite these impressive technical elements, the film ultimately falls short in delivering a satisfying story.
Director Pawan Kripalani's previous film "Bhoot Police" may not be remembered by people anymore, and it's possible that "Gaslight" will also be forgotten after a year or two. It's fortunate that both films were able to be released under the Tips banner on Disney Plus Hotstar. The common connection between these two films is the Pataudi family, as Ramesh Taurani and Akshay Puri produced both films. Saif Ali Khan was the hero in "Bhoot Police" while in "Gaslight," the entire Ali Khan family is present. It seems as if both films were packaged together in a deal. Despite gathering some of Hindi cinema's best technicians, Pawan Kripalani has made the same mistakes as in his previous film in terms of the story and screenplay. The beginning of "Gaslight" is intriguing, but as the film progresses, it loses its intensity. The audience is left with nothing, and when the climax reveals everything, it feels rushed as if someone is trying to get the job done. The movie "Gaslight" is Sara Ali Khan's third film after "Kedarnath" and "Simmba", but unfortunately it hasn't reached theaters yet. This is a common trend for movies that are now directly released on OTT platforms, and audiences are starting to understand this. However, the biggest reason why "Gaslight" couldn't reach theaters is because of its lead actress, Sara Ali Khan. Due to her film background, she has been continuously getting movie offers, but as an actress, her growth seems to have stalled since her first film "Kedarnath". In order to prepare for a mysterious film, she sat on a wheelchair to control her physical expressions, but her facial expressions don't seem to change according to the scenes. On the other hand, Vicky Kaushal is becoming a seasoned actor with his impressive performances, and neither the producers nor the directors can separate him from his characters.
The only attraction of the film "Gaslight" by Chitrangada Singh is that it can be watched till the end, thanks to the captivating performance by Chitrangada in the role of Rukmini. Chitrangada's acting, which creates an attraction for both comedy and drama on the screen, was polished by director Sudhir Mishra, and other directors could benefit from his skills. Negative characters suit her well. Although the presence of talented actors such as Akshay Oberoi, Rahul Dev, and Shishir Sharma in the film gives the impression that it will be enjoyable, their characters are not properly developed in the screenplay. In addition to Chitrangada's acting, another good thing about "Gaslight" is that, despite being a film from a music company, it does not forcefully incorporate songs like a typical action hero film.