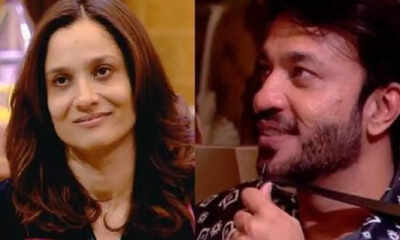 Sizzling Chemistry and Surprise Kiss: Kangana Ranaut Ignites Bigg Boss 17 Weekend K Vaar
Bigg Boss 17 witnessed a spectacular Weekend K Vaar as Bollywood powerhouse Kangana Ranaut joined host Salman Khan on the set, setting the stage on fire. Kangana was there to promote her upcoming movie, and her presence added a dose of entertainment to the show.
The highlight of the evening was a task assigned by Kangana to the TV couples inside the Bigg Boss house, where they had to showcase their on-screen chemistry. Ankita Lokhande and Vicky Jain took center stage and delivered an electrifying performance that culminated in a sweet and spontaneous kiss. The housemates couldn't help but applaud their chemistry, making it a standout moment.
Kangana Ranaut, with her trademark wit, playfully advised the lovebirds to be cautious in front of the ever-watchful cameras. She extended her support to Ankita Lokhande and commended the chemistry between Neil Bhatt and Aishwarya Sharma. When the votes were counted, it turned out that Ankita and Vicky had won the hearts of the housemates, securing more votes than their counterparts.
Kangana's reunion with Salman Khan and her lighthearted banter with the contestants made this Weekend K Vaar a blockbuster event. She expressed her admiration for Ankita Lokhande, calling her one of the strongest contestants and sharing her vote of confidence. Kangana also wished Neil and Aishwarya the best in their journey.
Bigg Boss 17 commenced on October 15, 2023, introducing a fresh batch of contestants to the world of reality TV drama. The diverse lineup includes Munawar Faruqui, Ankita Lokhande, Vicky Jain, Aishwarya Sharma, Neil Bhat, Isha Malviya, Mannara Chopra, Navid Sole, Anurag Dobhal, Sana Raees Khan, Jigna Vora, Soniya Bansal, Khanzaadi, Sunny Arya, Rinku Dhawan, Arun Mashettey, and Abhishek Kumar. Salman Khan returns as the charismatic host for this season.
The first Weekend Ka Vaar of the season was a treat for fans, with no contestant eliminated due to the festive spirit. Notably, the episode featured guest appearances by star celebrities like Tiger Shroff, Kriti Sanon, and Kangana Ranaut, who engaged in entertaining activities with the housemates, making it a memorable night of entertainment. Bigg Boss 17 promises an exciting season with an engaging mix of personalities and surprises awaiting viewers in the days to come.