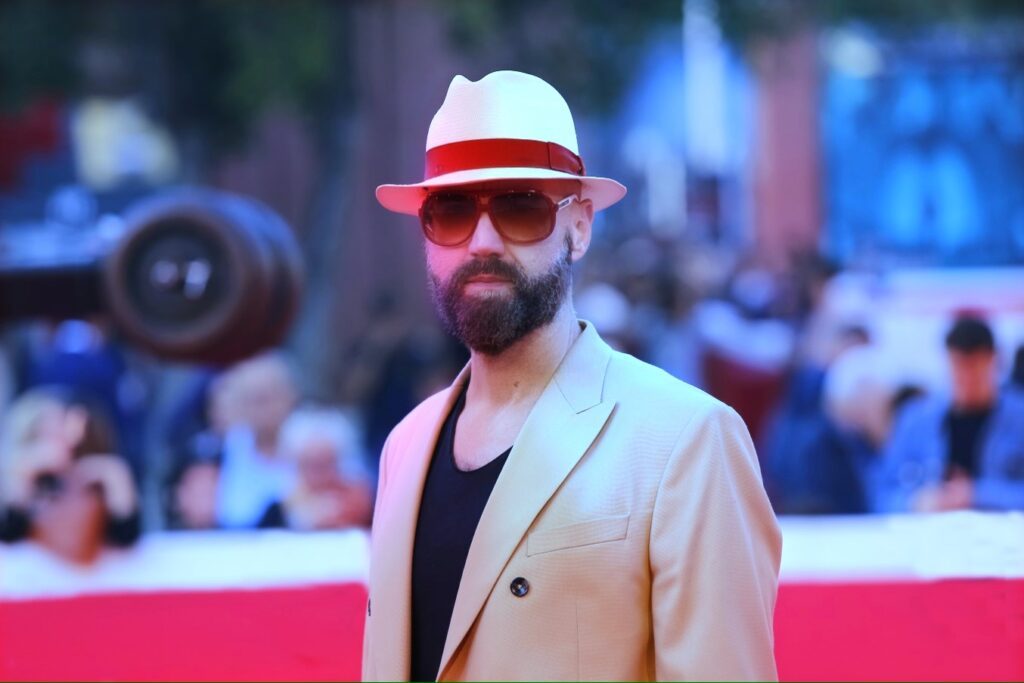 Celebrity Raimondo Rossi opens the doors of his artistic world to us
Raimondo Rossi, men's style editor photographer, also known as Ray Morrison, welcomes us to his property in central Italy, a visually striking and elegant resort. In a classic, gilded room, he tells us so much about his world.
Raimondo Rossi grew up in Umbria, near Perugia. His family has always been very much about practical things, an entrepreneurial family. His paternal grandmother, however, and his father's sister, were very interested in opera, tailoring, literature, and languages. "My grandmother used to comb my hair with great care, a practice she learnt from her French mother.
I remember that then those attentions of hers to aesthetics, to music, to small details, seemed superfluous to me." But evidently, those little seeds, which part of his family had planted, came out over the years, slowly, and Raimondo's more artistic side treasured them. "What I loved most as a child was, surprisingly, simple: being around others, playing, watching movies.
Film was undoubtedly his bridge between the concrete, managerial life of his parents, and art. He loved studying films in detail, the music, the cinematography, dreaming of one day being able to get to Los Angeles, Hollywood, and maybe even walk on a Red Carpet. But not for the fame: that carpet was the junction between reality and dream.
"I always imagined different endings for the movies I watched. I used to try to imagine what would happen if certain scenes in the story and certain events in the script changed. The story could have ended according to my expectations, I thought. I think from here then, it all started."
After some experiences in dance, theater and video art, today, Raimondo is absorbed in a kind of emotional research in fashion and film, especially in backstages, and in the art direction of photo or video shoots.
"This is what I dreamed of as a child: savoring the emotions and sensations that the protagonists of a fashion or film event feel on their skin, conveying them through photography or directing a shoot." During the years dedicated to blogging and photojournalism, Raimondo had the opportunity to experience the "behind the scenes" of events and to be able to capture those emotions, the stories told by costumes, stage clothes, to tell those who could not be there.
Today he lives a continuous evolution, following backstage everywhere, with no limits of any kind, expressing what he feels and thinks. "In my works I try to immortalize simplicity. This is what I do behind the scenes of a fashion show or, when I have the chance, behind the scenes of short or feature films.
I observe a lot and try to tell what will not be told by others: nuances, and sensations that I decide to bring back in an image or a service. In the backstages," he explains, "the purity in the eyes of the models appears clear, and I am confronted with a reality that is completely disconnected from what will later be seen on the catwalk or in a fashion magazine feature. This emotion is a bridge, a joining point of two worlds, the concrete world and the world of the soul. This is what I do behind the scenes, I connect with something more than a beautiful dress or a beautiful script for a photo shoot."
Raimondo is preparing for a new project. The mission will be to enhance particular faces that he believes are beautiful but may not be appreciated as much as those of famous models and models. "I want to show how equally beautiful they are. Canons of beauty change over time simply because beauty is not definable, but connected to a sense of harmony and elegance. Particularly in fashion, my concept of beauty is not linked to a designer or a current. What I find is not beauty at all is, for a designer, not having an identity. In any case, what interests me is the beauty of the soul. Starting from that, we create beauty in a photograph, in a photo shoot, in a text, in a dress".